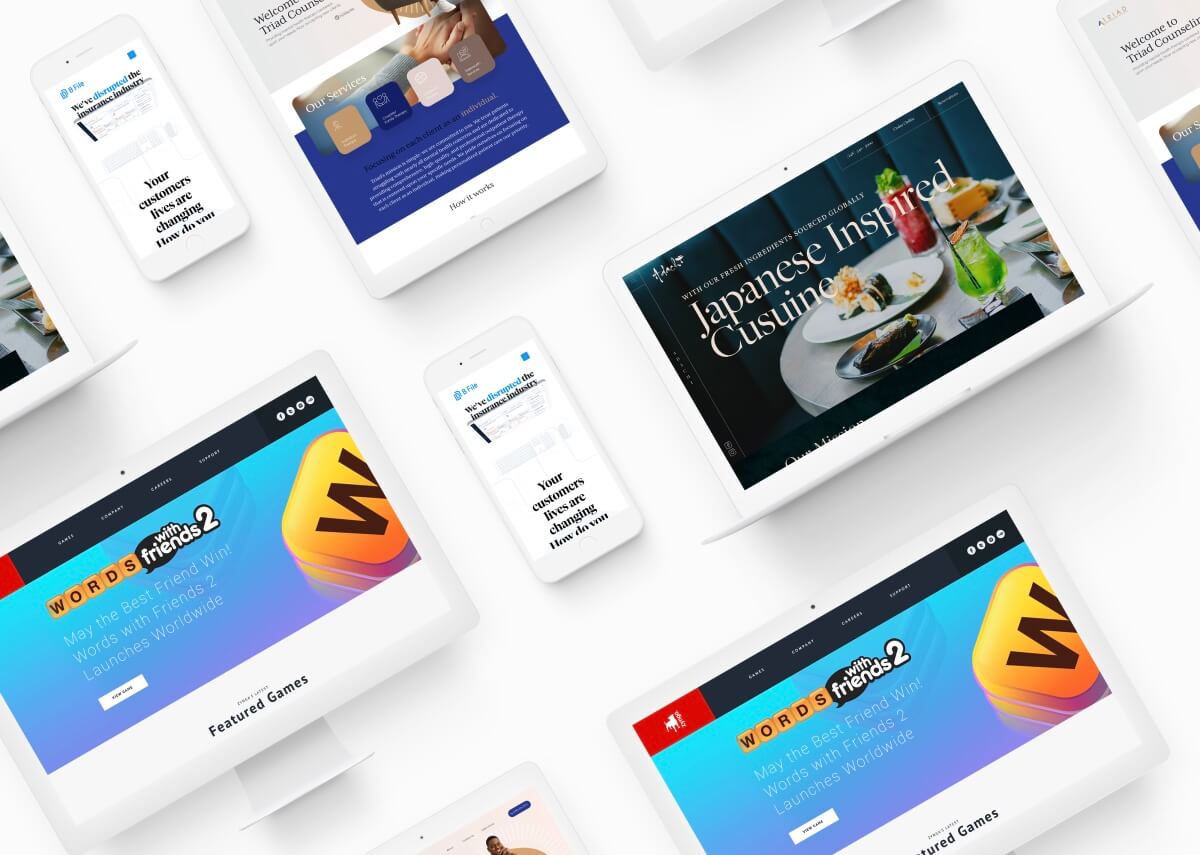 Custom & Affordable Web Design Based in Michigan
Our web design packages are tailored to your specific needs and budget, ensuring unique and affordable solutions for your business. Request a free quote today. At our Michigan web design company, we consistently under-promise and over-deliver, providing exceptional value for your investment.
Custom web design services aren't just for enterprises.
One first impression is all you can make before someone clicks off of your site and goes to a competitor. BMG Media develops fast, fluid websites that get your brand noticed, boost sales and create an unforgettable user experience.
Why Does Your Business Need Custom Web Design Services?
Your website is the entryway to your business's digital presence.
And the competition is fierce.
Over 1.8 billion websites are online. Does your website stand out? Or are you using the same theme as hundreds of thousands of other sites?
Custom development helps:
Position your brand as an industry leader
Builds trust among leads to improve conversion rates
Create websites that work on all devices and platforms
Users experience a seamless journey across your content and products
We guarantee our dedication to excellence to help you:

Save Money & Time
Building your own website takes time – a lot of it. When you use an affordable web design service, you can spend more of your valuable time on the things you do best – like running your business.

Build a Brand Identity
Branding is how you stand out in the crowd. It's what sets you apart from the competition. With custom web development services, you can create a website that is completely your own, complete with your logo and brand colors.

Provide a Better Customer Experience
A custom website design will deliver a better customer experience. Off-the-shelf solutions and templates may not have all the features and functions you want or need for your website.
Custom solutions are tailored to your business's needs and are designed with your customers in mind.

Our Custom Web Design & Development Process
At BMG Media, we take a proven and strategic approach to web design and development. Our client-centric process makes the entire process as stress-free as possible. We'll work closely with you every step of the way, from the initial consultation to the launch of your website and beyond.
UX Design
Our custom web design services start with UX design. The goal is to create a positive user experience that encourages visitors to take the next step and return to your site in the future.
We also keep your brand identity and goals in mind to ensure you create the right impression and feeling when users interact with your website.

UI Design
User interface (UI) design will further build your brand's identity. Our expert design team will ensure every visual element on your website is on-brand and follows the best design practices.
We create user-friendly, responsive sites that are easy to use on any device.

Development
Our custom web development services go beyond custom WordPress sites. We've built a talented of developers who are proficient in:
PHP
React
CSS
HTML
Python
JavaScript
With these skills, we can build custom web apps for your business and create more engaging websites that keep visitors around.

Our Work
Explore what an affordable web design service can do for your business:
Why Choose BMG Media?
Our team has won 25+ industry awards and has completed 1,000+ websites – yours can be next.
We create bespoke designs from scratch that visitors will love.
Our coding is optimized, clean and error-free.
Add pages, features and functions with confidence thanks to our scalable design practices.
Our team removes code from employee-accessible areas to reduce the risk of an employee breaking your site.
We develop each site to allow for core CMS updates without breaking your template.
BMG Media's passion for custom web design and development remains as intense today as it was when we opened our doors in 2009.
As industry innovators, we believe custom web development services must be professional, create a presence with every page and have pricing that is accessible to business of all sizes. Our diverse team is committed to your business and offers easy management solutions and ongoing support for every cutting-edge website we develop.
Why Custom Web Design is Better Than Template Websites
Template websites may be convenient, but they can't compete with custom web design services. Here's why custom web design will always beat template websites:
Unique Design
When it comes to
creative design
, templates just won't cut it. You don't want your site to look like every other site on the web. You want your brand to stand out in the crowd. That's something that can only be achieved with custom web design and development. Custom sites are:
Branded
Built with the functions and features you want
Designed with your unique users in mind
Branding
Template sites offer limited customization options, making it difficult to truly brand your website. A custom design will ensure that every element on every page is a reflection of your brand. When paired with custom web development solutions, you can take branding even further with custom
mobile app development
.
Faster and More Efficient
Template websites are loaded with features that you'll probably never need. These features bog down your site, increasing load times in the process. Custom sites have only the features and functions you want. They're speedy and efficient, making them user- and search-friendly.
Only the Features You Want
Custom web design and development removes the "bloat," leading to faster websites with the features you want for your visitors. Our team's dedication to speed and optimization allows you to enjoy a feature-rich web presence that follows best practices and loads in a fraction of the time of a non-custom solution. After all, 53% of mobile users will abandon your site if it doesn't load fast. Really fast!
01

Updating the CMS or theme in pre-built templates may cause your website to malfunction.

02

Heavy templates can result in slow page load times, negatively impacting your search engine rankings.

03

Pre-built templates come with an abundance of features, but you may only utilize around 20% of them.

04

Scaling a template-based website can be challenging due to its specific and unfamiliar code structure.

05

Templates are prone to breaking, and their code is often messy and difficult to repair.

06

Personalizing a template-based website can be tough, limiting your ability to make it truly unique.

07

Developers often hardcode templates to expedite the process, resulting in extra charges for updates and making it difficult for you to modify the site without HTML or CSS knowledge.