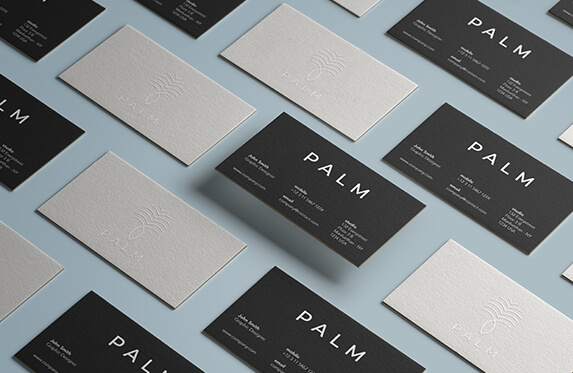 Business card design services can elevate your first impressions and get your contact information into the possession of potential buyers.
BMG Media goes beyond modern website design and puts one of the timeless forms of marketing in your hands: the business card.
Why Does Your Business Need Modern Business Card Design Services?
Why should you spend the time and resources to design a business card?
Custom business card design is an industry that dates back 600 years, and even today, you can increase sales by 25% for every 2,000 cards you give out
Not sure if your company can benefit from professional business card design?
You'll:

Make A Great First Impression
Impress potential buyers from the moment you hand them a card. First impressions are memorable. They will allow you to stay in the customer's mind and increase the odds that they'll make a purchase in the future.

Improve Your Branding Efforts
Great business card design is all about branding. At BMG Media, we design stunning graphic elements that improve your brand image, and showcase your contact information, email address, website and tagline.

Stay Relevant
Clean, creative business card design can also help you stay relevant. Business leaders keep cards in their wallets or on peg boards, allowing your card to keep promoting your entity and helping you to stay relevant.

Easy Way to Provide Contact Details
Your customers and clients are in a rush. If you can't provide your contact information quickly, you may miss out on a potential sale. Good business cards have multiple contact points that help you land more clients and increase sales.

Some Cultures Prefer Business Cards
Certain cultures prefer working with companies that hand them business cards. If you do business in Hong Kong, there's a strong culture around cards. In fact, you must return a card to those who hand you one or lose a potential lead.

Direct Marketing Tools
Your business card acts as a direct marketing tool, allowing you to generate and secure leads using a tried-and-true method.
Our Custom Business Card Design Process
When we design a business card, we go through a streamlined process that incorporates multiple elements, including:
Discovery
Discovery is an integral part of the design process, which we use to collect as much information and data about your brand, competitors and customers as possible. We'll then analyze the reason for your business through meetings and research.
Design Brief
The end result of a graphic design business card is the goal of the design brief. We'll create a brief that works to capture your creative vision, outlines expectations and puts it all together in one business card.
Conceptualization
The next step in our business card design services is conceptualization. We'll establish the underlying idea behind our design and create a plan for how we'll express it visually.
Presentation
At this stage of the professional business card design process, we'll present your design for review. Once we unveil the design, you can approve it and move to finalization, or we can make revisions to ensure you have a design that you love.
Finalization & Delivery
The final step in the design journey is to finalize the design and deliver. After the design is approved, we'll deliver your business card design so that you can get straight to the printing stage.
Benefits of Creative Business Card Design
Creative business card design helps your brand stand out. Our design services will help you:
Improve Brand Recognition
When you hire BMG Media to design a business card for your brand, you take an important step in building brand awareness. The right design will communicate what your brand is all about, allowing you to make a great impression right from the start.
Expand Your Network
Business cards play an important role in networking. An effective card design will ensure that your brand stands out and is memorable. Your business cards will be the tool you use to build relationships with individuals and decision-makers in your industry. Our creative designs will send the right message and communicate the right information to your contacts.
Create an Impression
Your business cards make an impression. Make sure it's the right one. Our talented team of designers will create a business card design that will communicate your brand's values and mission. It will also communicate your most important contact details, including your phone number and website address.
Why Choose BMG Media for a Clean Business Card Design?
Businesses from across the world have chosen our agency for their creative business card design. Here's why:
Highly Awarded Agency
When you choose BMG Media, you choose an award-winning agency that specializes in business card design services.
We are proud to say that we have 5-star ratings across the web.
Creative & Experienced Team
When you work with BMG Media, you get access to a talented, creative and experienced team that knows how to create good, effective business card designs.
Our team has years of design experience and has worked with more than 1,000 clients since opening our doors more than a decade ago. We leverage our years of combined experience to develop business card designs that inspire and delight our clients.
Multiple Industries Served
We have worked with businesses in a variety of industries, including:
We've worked with businesses just like yours. Our first-hand experience with your industry allows us to create business card designs that speak to your audience.