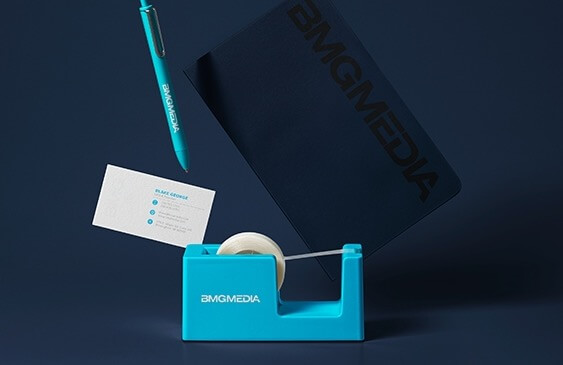 Brand design services help your business make an impact without saying a word.
BMG Media's design team can improve your brand by creating a look that is stylish, applies brand values to promotional elements, invokes the right emotions and is consistent across all touchpoints. If you want your business to have the "upper hand" and success in your industry, branding is the answer.
Why Does Your Business Need Brand Identity Design Services?
Brand consistency can increase your revenue by as much as 23%.
And every company enjoys higher revenue.
Branding helps companies stand out by developing an image and presence that transcends marketing campaigns.
Think about the major brands that you buy from time and time again.
Brand design helps businesses:
Create customer recognition
Improve consistency online and offline
Build brand equity
Let our team put the personal touches on your brand identity.
Increase Brand Recognition
Brand identity design services increase brand recognition and perceived value. Customers trust companies with strong recognition and will pay more for their products or services, even if they're identical to the competition.
Build Trust with Your Audience
Our brand design services start with a full understanding of consumer behavior. Trust with your audience can be built once this behavior is understood. We leverage colors, messages, advertising and more to create a sense of trust in your brand.
Your brand has a personality that we'll help convey to your ideal customer.
Stand Out in the Crowd
What makes your business different? Standing out in the crowd is possible by using branding, product design, customer service and perception. Brand design can position your entity ahead of the competition.
Improve Customer Loyalty
Effective branding improves customer loyalty. Creating a connection between products and a business creates a loyal consumer base. Loyal customers are shown to return to companies more often, spend more money and have a higher lifetime value.
Our Custom Brand Logo Design Process
Logo and brand design is a tedious process that must be taken step by step to bring to fruition. Our team will work through a proven methodology that includes:
Discovery
In-depth studying of a brand is the first step and allows us to understand the business's customers, competition and market. Strengths and weaknesses assessments will reveal the most valuable offers and how to maximize them.
Design Brief
One of the most important steps in brand identity design services is creating a design brief. A design brief provides a complete overview of what a brand is and isn't.
It outlines the company's goals, objectives, vision and values. All of this information makes it easier for our team to create a brand design that communicates your purpose, direction and positioning clearly.
Conceptualization
After creating a design brief, we can move into the conceptualization phase of brand design. Conceptualization is all about taking your core ideas and pulling together your brand's goals and purpose to communicate what your brand represents.
Presentation
One of the most exciting steps in brand graphic design is the presentation. After all of the time our firm spends on conceptualization and understanding your vision, we'll unveil our brand design for your review and approval.
Finalization & Delivery
The last step in the process is to finalize the design and deliver the work. Once you approve the design, we can move forward to complete the work. Once finalized and delivered, you can get to work incorporating the design into your branding.
Our goal is to make it as easy as possible to work with our brand identity design company. That's why we simplify the design process and focus our time on what matters most – creating a brand design that you love.
Benefits of Creative Brand Design
Why invest in creative brand design? Here's why more than a thousand clients have turned to our team to design their brands.
Build Brand Awareness
Our creative brand design services help build brand awareness. A strong identity will ensure instant brand recognition, helping you stand out amongst a sea of competitors.
We also offer custom illustrations and animations as well as mobile app development to further build your brand and awareness.
Ensure Consistency
A solid brand identity ensures consistency across all marketing materials, social channels and corporate communication.
Consistency is important for building your brand and trust among your audience. Without consistency in your branding, you risk confusing your audience and can hinder brand awareness.
Build Trust
Effective brand design will communicate your values and identity, helping create the image you want and shape your customers' perception of your brand's quality, trustworthiness and service.
The first step to attracting and converting customers is to win their trust. A solid brand design can help you do that by creating the right impression from the start.
Our Latest Work
View our latest brand design work below.
Why Choose BMG Media Brand Design Agency
Highly Awarded Agency
Our brand design services have received more than 25 industry awards. We have 5-star ratings across the Internet for our web design services, graphic design, branding and other creative design services.
Creative & Experienced Team
The team at BMG Media has years of experience in brand design. In fact, we have been in business for more than a decade. Creativity is our passion.
Since opening our doors, we have served more than 1,000 clients from across the world.
Work with a Variety of Industries
At BMG Media, we work with businesses in a variety of industries, including:
With experience in such a wide swath of industries, we are well-positioned to help businesses of all kinds develop an effective brand design.